Here are the
House Details
House Details
Here below a description of the inside part fo the house. The outside area, where you will spent most of your time, has 300 sqm paved terrace at the house's level and additional 220 sqm paved solarium around the 6x12m pool. Two 6x5m wooden pergolas are conveniently positioned to enjoy relaxing in the shadow during sun hours. The property is located at the top of a 5'000 sqm olive trees park, enjoying a very nice view of the valley.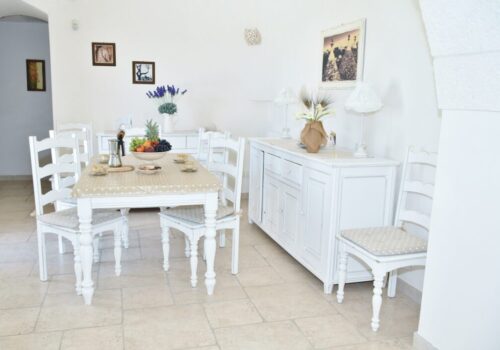 Dining Room
 
Spacious room situated at the entrance of the trulli. This room is connected to the Living Room through a big stone arch. Table with 8 chairs and a 2 base cabinet containing plates and glasses.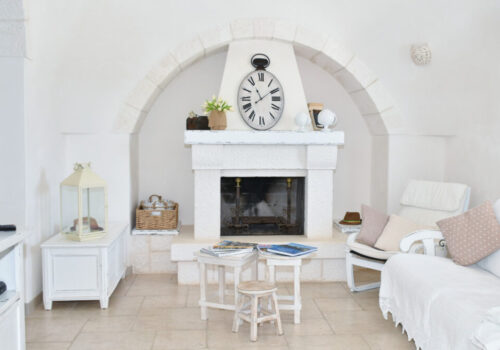 Living Room
Spacious room with fireplace. This room is connected to the Dining Room through a big stone arch. Sofa, armchair, TV with cabinet. Satellite TV and DVD.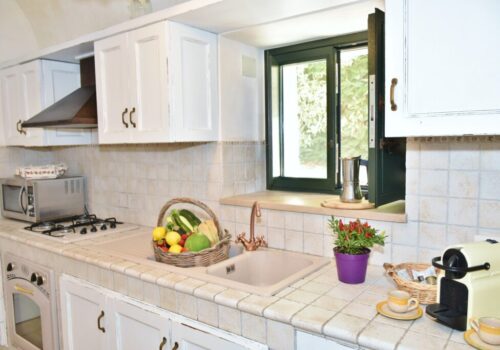 Kitchen
Fully equipped kitchen. Built-in cabinets, dish washer, fridge, freezer and oven. On the ample counter top space there is a microwave, a toaster and a kettle. Directly connected to the kitchen, there is a small and convenient storage room equipped with a washing machine and a storage shelf.
Master Bedroom
 Conveniently positioned in the coolest part of the house. The stone arch and optical fiber "stars" in the cone shaped ceiling make this room very romantic… Double bed, built-in bedside tables, wardrobe, drawer cabinet and wooden stool and bench.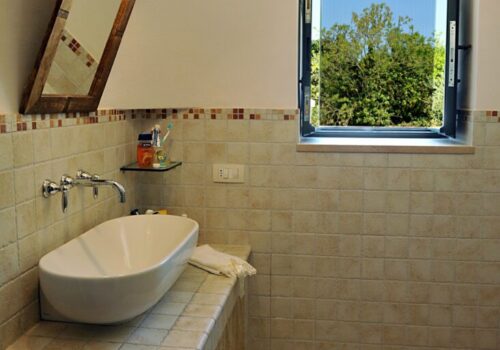 Bathroom
A smaller cone hosts the cosy bathroom with built-in shower, bidet, WC, sink and hair dryer.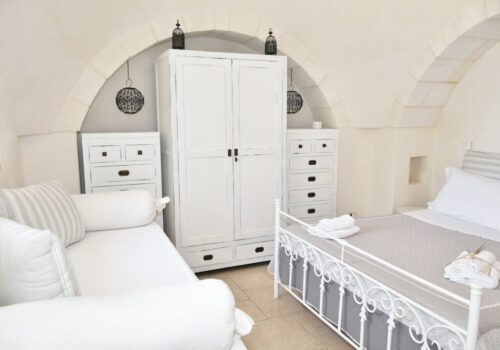 Guests/Kids Bedroom
Southern exposure, two stone arches give more space to this bedroom. Double bed, sofa which functions also as single bed, or if not needed as a practical wood luggage stand or bench.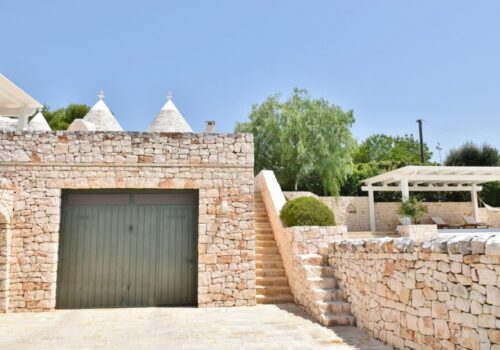 Garage and Pool Bathroom
Spacious enough for a (big) car, portable grill and swimming pool toys and inflatable storage. The Pool Bathroom is situated within the Garage, conveniently positioned for usage during the day and especially from the swimming pool area. It includes shower, WC and sink.